Project Application
Value Champion Project Workbook
The learnings in this module are applicable across many if not most phases of your project: selecting a topic, understanding your project landscape, developing your charter, and how you will engage others in overuse reduction. 
It is crucial to understand both why some patients are more vulnerable to harm from overuse (for example, telling stories of harm to your stakeholders as an engagement strategy), and ensuring that you look in stratify your data and by race, ethnicity, sex, language and other patient characteristics.
This understanding of the connection between value and equity can also be useful in engaging leaders within your organization who are motivated by addressing health disparities. Most importantly, it provides you, the value champion, with the answer to the important "Why?" question that motivates your work and keeps you from becoming discouraged.
This workbook is broken into sections based on phases of the work, with tools and journal reflections throughout
and in their own sections at the end. While the phases are presented and numbered in a linear fashion, in reality you may need to work on multiple phases at one time or go back to phases previously addressed. The phases of the work are presented in this workbook as follows: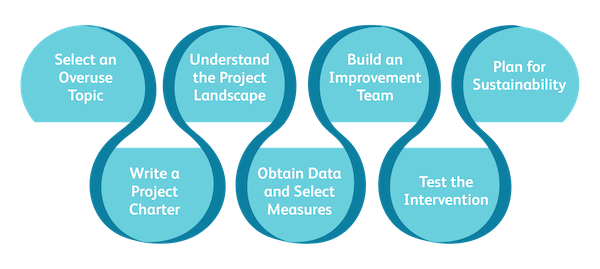 You can download the project workbook at the link above or preview it and the tools/resources in the final module of this course. 
Last modified: Thursday, 3 June 2021, 4:19 PM